WildLand and the Great Wall Pickup jointly created a new species, the Jungle Cruiser, which finally met with everyone at the Guangzhou lnternational Auto Show. With its advanced concept, extreme features and excellent performance, Once unveiled, Jungle Cruiser became the main character of the Guangzhou lnternational Auto Show. The audience's love for this jungle Cruiser is no less than some of the star models. lt has also attracted a lot of professional automotive media, Many media gave professionally detailed coverage of jungle Cruiser. What surprises will this Jungle Cruiser bring to outdoor enthusiasts ? Let us look forward to it!
The reason why this roof tent became a phenomenal new product at the Guangzhou International Auto Show is that it helps the pickup trucks to the supreme position of "the strongest on land" in the outdoor field. By transcending the crossover imagination of traditional pickup trucks for both passenger and cargo use, this pickup truck opens up a new perspective of outdoor life with its positioning as a large high-performance luxury pickup truck, while Jungle Cruiser gives the pickup truck a new outdoor use scenario with the innovative integration of the "third space", and successfully customizes the pickup truck without affecting the basic function of the pickup truck for both passenger and cargo use. It has developed a composite functional form integrating side tent space, high cover space and roof tent, which directly upgrades the original rough outdoor experience of pickup truck to full equipment form. At the same time, through the perfect integration with Wild Land's "roof-top tent ecology", the patented 3D sleeping bag, multi-functional folding table, folding chair, camping lamps and other high-quality outdoor equipment reach every important part of outdoor life with "turnkey" specifications. With the top and consistent product experience, it forms a perfect closed loop of high-quality camping ecology, and finally realizes the dual evolution of function and experience of the pickup truck in the outdoor field.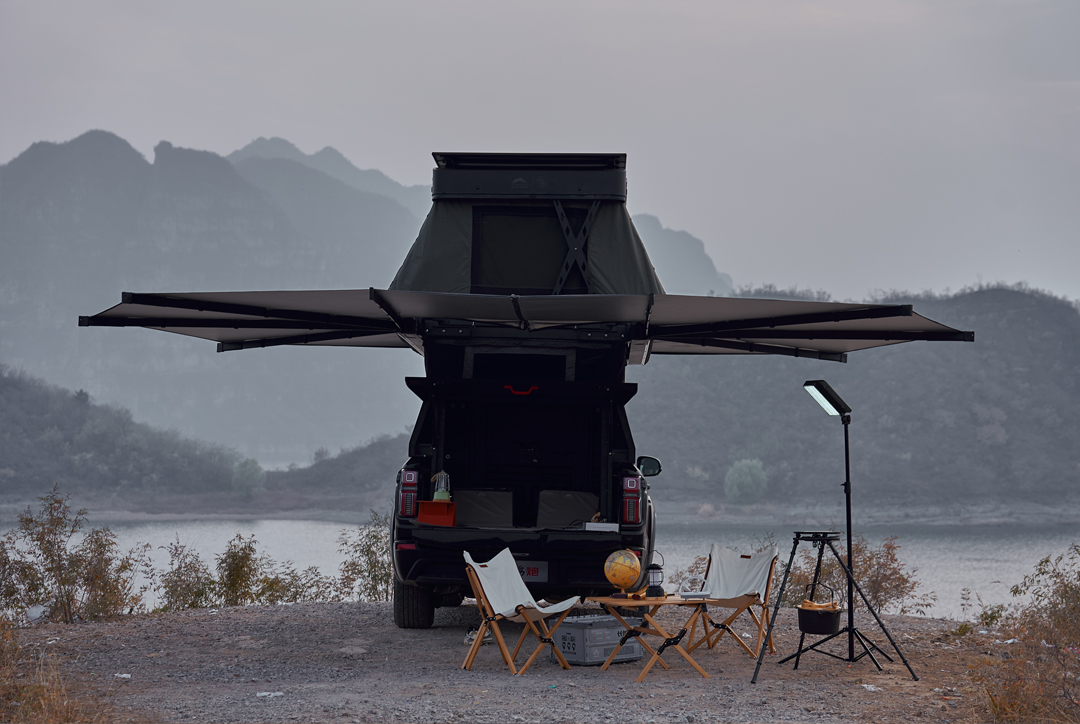 Jungle Cruiser has not only set off a wave of change in the field of traditional pickup trucks, but also sets the trend in the new energy field. The pure electric pickup which the Wild Land roof tent Pathfinder ll sit on, also aroused great feedback from the crowd. lt will be a great combo of an electric pickup truck and an electric roof tent.
Starting from the Guangzhou International Auto Show, our journey to the mountains and the sea has just begun. We hope that the diversified development of China's auto industry will deeply penetrate various professional fields and bring more novel ways to play outdoor life together with quality outdoor brands like Wild Land.
---
Post time: Jan-16-2023